Mapping the future and making it happen
How do you fill the purpose you imagined for your enterprise? Help your entire team map out what it can do and where it can go with a definitive plan for one year, two years and perhaps five. Month-by-month, monitor your progress against the map
Business management from the ground up
Developing performance measures for departments and employees helps deliver critical information throughout the enterprise. Measure the right stuff, people who fit will progress and people who want to hide will leave. Our surprising results speak for themselves.
Making companies better places to work - worldwide
A company improves performance by making people connections that engender genuine and consistent cooperation. When whole teams are rowing on the oars together, they speed past teams that are less synchronized. Staff members' self-esteem increases and people have fun at work.
Discover balance
A company in balance operates with all cylinders in synch. Measuring balance of the enterprise gives leading indicators long before financial statements are published, providing early warning that something is amiss.
Consistent Cooperation
Full potential is realizable when people cooperate. Getting consistent cooperation is achieved by lifting any of the 24 barriers of management errors. From there positive results form quickly – often within days.
Corporate Retreats
Get your team away from the office
for a re-charging of its batteries.
What are your concerns?
Are your company problems similar
to other businesses?
View solutions to 120 of the most common
corporate problems, issues and concerns.
CCCC Planning – Whiteboard Animation
What people say they get from CCCC
You get an objective system
"Caswell CCC has unique skills and experience that enables them to look at a company independently and objectively and brings significant improvements in operations"
Charles Kent,
Senior Partner, Ridout Maybee LLP
You get usefull tools to use and re-use again
"We've seen good returns on investment from Caswell CCC process… and we frequently return to the CCCC methods to stay on track and keep the wheels moving steadily forward."
Tyrone Paterson,
General Director, Opera Lyra Ottawa
You get a high return on your invested time
"We've seen a tremendous return on investment in Caswell. The ratio of benefit gained to time invested in solving problems using the Caswell system is consistently 20:1."
Dan Trepanier,
President ampl CEO, Quake Technologies Inc.
You get fast results
"Caswell has a whole system under which they guide, analyze and extract clear thoughts from people. In just three days we cut through the confusion and the ambiguity and got right to the crux of the issues."
Ross MacDonald,
President, Inuvialuit Development Corporation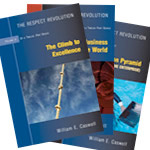 A 12-volume books series of how to run any human endeavour
Learn More »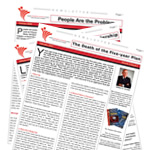 Try-before-you-buy
Entering into any new relationship is always risky. We want to take some steps to reduce your risk. If as a new buyer, you decide on a program with CCCC, the price, deliverables, schedules etc. will be decided in advance as in any program, however no money will be due from you until you are satisfied with what you have received.